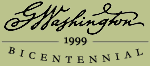 George Washington Trail In West Virginia
---

SITE II:
THE WASHINGTON FAMILY HOMES OF JEFFERSON COUNTY
[ ]

George Washington's brother, Lawrence, died young in 1752 and left his considerable acreage to various family members. Five homes remain today in Jefferson County; one is still in Washington family hands.

Samuel Washington built Harewood of native gray limestone in 1770 from his brother

George's design; it remains today in the Washington family and has a family graveyard on the land. The mansion is famous as the location for the wedding of James and Dolley Madison. Cedar Lawn was built elsewhere on Harewood's property in 1825.

Charles Washington built Happy Retreat in 1780 on the southern edge of the town named for him. In 1820, two young Washington brothers married two sisters and built two mansions -- Blakely and Claymont -- facing each other across the North Fork of Bullskin Run. Today, Claymont Court Mansion is a bed and breakfast, the largest of the Washington homes and the only one open to the public.

In 1840 Col. Lewis William Washington expanded the eighteenth century BeallAir. In 1859, he was taken from the house as a hostage to John Brown who took George Washington's sword from his descendant.

DIRECTIONS:
Blakely/Claymont Court -- off Huyett Rd. alongside Bullskin Run west of US340 between Charles Town and Rippon.

Cedar Lawn -- off SR51 approx. 4 mi. w of Charles Town

Happy Retreat -- Blakely place & Mordington Ave. south of old SR9. Charles Town

Harewood -- SR51, 3 mi w Charles Town

Beall Air -- North of US340 between Charles Town and Harpers Ferry near Halltown.
<< | >>